ZEOCAT-3D Social Life-Cycle Assessment Survey: open for contributions
Our project partner Lurederra releases the ZEOCAT-3D Social Life-Cycle Assessment Survey.
Barcelona, 18 January 2021 – Following several months of research, literature review and internal exchanges with all partners, our partner Lurederra launched the ZEOCAT-3D Social Life-Cycle Analysis Survey(S-LCA-S).
A social life cycle assessment (S-LCA) is a method used in scientific research to assess the social and sociological aspects of products, technologies and tools to find out their actual and potential positive (as well as negative) impact along their complete life cycle.
Usually, when the assessment is related to products, it looks at the extraction or cultivation and processing of raw materials, manufacturing, distribution, use, reuse, maintenance, recycling, and final disposal. S-LCA employs generic and site-specific data, which can be quantitative, semi-quantitative or qualitative, and can be a complement to the environmental Life Cycle Assessment (LCA) and the economic Life Cycle Costing (LCC).
Within the deliverables documents agreed with the European Commission for the ZEOCAT-3D project, Lurederra is working on both the LCA and the S-LCA. This survey aims at gathering opinions and suggestions from different interest groups that might have a unique perspective on the social impact the results of the ZEOCAT-3D project might have on society and people's life.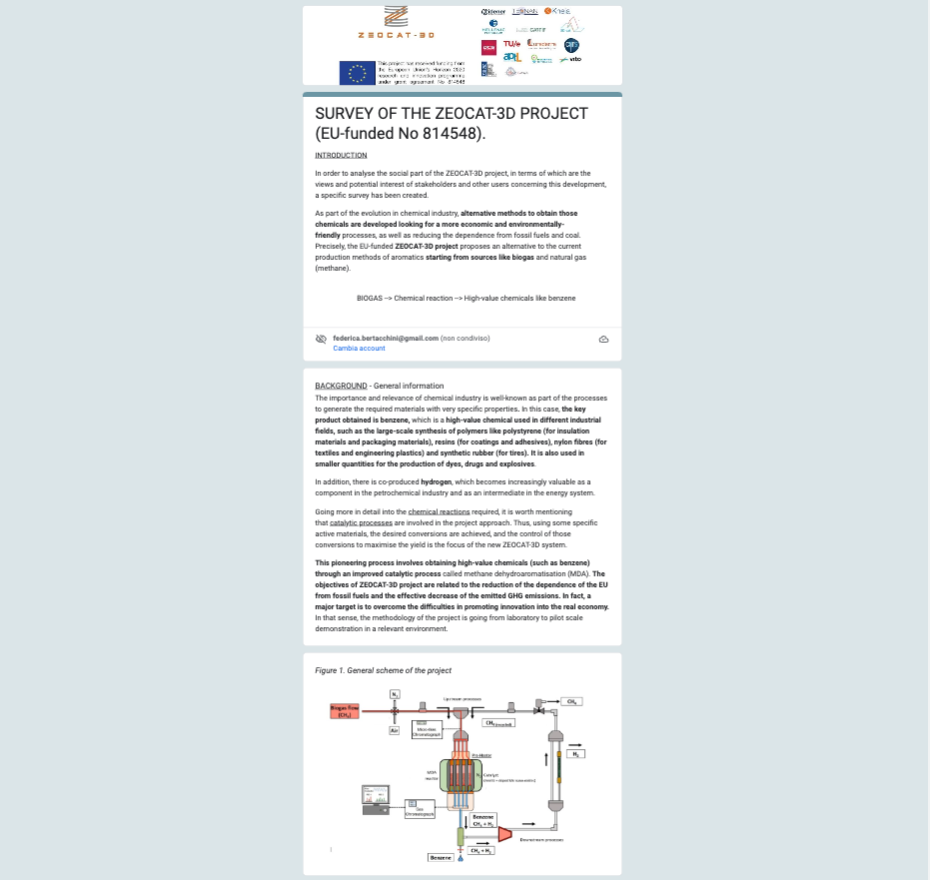 The survey is an occasion to find out more about the project and, in general, about emerging technologies related to innovative catalysis methods, biogas utilization beyond the energy sector, 3D printing for the chemical industry, new tendency in nanotechnology and more. Your contribution to the survey will make it possible for project partners to identify the key issues and other relevant points in relation to the project results – both at product and technological level.
If you are interested in the ZEOCAT-3D project, we invite you to access the survey and directly contribute to our research – it will take you less than 15 minutes! The survey will be open and accepting inputs until 10 February 2023. Don't miss your chance: participate now!
opg description
ZEOCAT-3D project partner Lurederra opens the ZEOCAT-3D Social Life-Cycle Assessment Survey for external contributions. Take action, participate now!