ZEOCAT-3D presented at the 21st Chinese Zeolite Conference
A video presentation on the work done by CNRS colleagues gets streamed to an international audience of experts at the most prestigious zeolite conference in China
Hosted by the Molecular Sieve Professional Committee of the Chinese Chemical Society and the China University of Petroleum (East China), the 21st Chinese Zeolite Conference took place between 27 to 30 September 2021 in Qingdao, China. It was the first international edition dedicated to "Porous Materials for Future Energy", and it hosted the International Symposium on zeolites and related porous materials.
Given the ongoing pandemic, our colleague Prof. Ludovic Pinard from the Institut de Chimie des Milieux et Materiaux de Poitiers, part of the CNRS network, was invited to hold a virtual presentation during the International Symposium. His contribution as Key Note speaker, titled "New insights into the methane dearomatization reaction over Mo/H-ZSM-5 catalyst in four successive steps", was streamed to the participating audience on 28 September 2021 at 5 pm.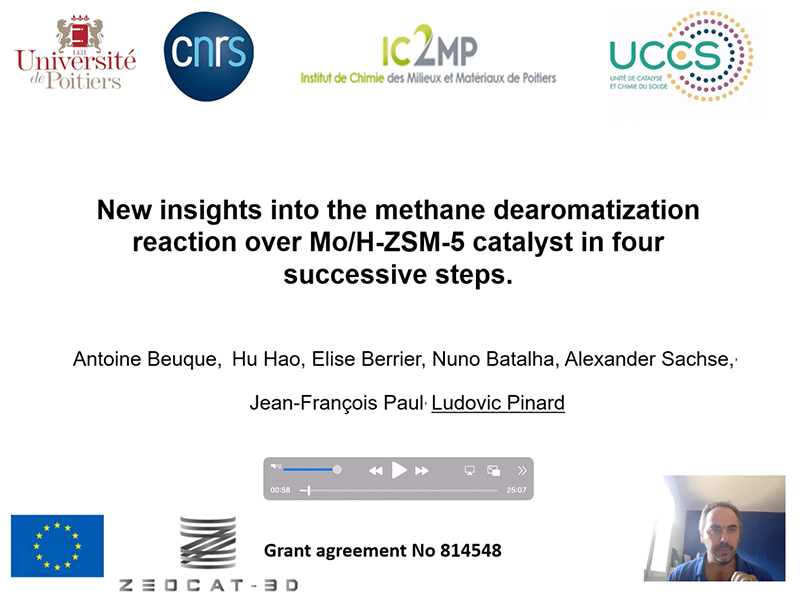 Attended by over 1200 delegates in person, in addition to more than 250 online participants, the umbrella conference counted 12 plenary sessions, 31 keynote speakers, 63 invited talks and 200 oral presentations. Co-chairing the event, together with Prof. Zifeng Yan and Prof. Xinmei Liu from the China University of Petroleum (East China), was Dr Svetlana Mintova, Research Director at the Laboratory the of Catalysis and Spectrochemistry (LCS), CNRS-ENSICAEN. The conference aimed at showcasing the latest progress in the field of zeolite and porous materials in China and internationally. It discussed the responsibilities, opportunities, and challenges in this specific chemistry branch while looking at a new era of energy reform for a more sustainable social end economic development.
The International Symposium on zeolites and related porous materials included exclusive presentations from 24 distinguished specialists coming from 17 different countries. Among them was our colleague Ludovic, who presented the work done by his lab within their activities in the ZEOCAT-3D project.
Do you want to keep updated about the latest developments on low-carbon technologies of gas petrochemistry based on zeolite materials? We will soon be publishing Prof. Pinard's video and more news related to a currently under-review scientific article on this topic. Continue to follow us via our ZEOCAT-3D news!